Demand for Epiphany Ai's Platform Continues to Grow as SSP Integrations Ramp Up
Demand for Epiphany Ai's Platform Continues to Grow as SSP Integrations Ramp Up
Epiphany Ai's integration experts are hard at work getting SSP's ready to sell in their intelligent platform Exchange.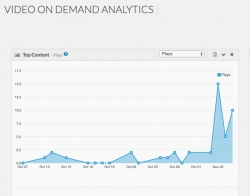 Denver, CO, November 09, 2017 –(PR.com)– The queue for Epiphany Ai's SSP integrations is quickly filling up as demand increases to utilize their intelligent end-to-end platform.
"There is a growing swell of partners lining up for our newly released platform," said Joe Salvador, CEO, "It is exciting to see the advertising industry evolving to the next stages of transparency with platforms like ours."
Epiphany's publisher marketplace platform has an array of tools for publishers that make monetization of content an easy process:
Intelligent ad tags and a supply side filter that allows for pre-bid filtering through tags to protect brand safety. A lightweight HTML5 player that's easy to install and supports live and VOD content. A video management system that allows users to create, upload, manage and monetize live and VOD content. A content marketplace where publishers can contribute their own content or syndicate other publisher's content. A global contributor network that uses hashtags to connect people to stories. A publisher inventory exchange that allows content creators to easily market and sell their inventory.
Publishers also have access to several SSP marketplace products to take advantage of including an out-stream video unit with mid-content video advertising. A pre-roll video unit with intelligent pre-roll advertising tags. An in-stream video unit with video advertising, content and player. A stream to VOD video unit with video advertising, content and player. A live stream video unit with video advertising, content and player.
With over 8 billion daily ad opportunities, 50 million monthly unique users and 50,000+ live domains and mobile apps, Epiphany Ai is the go-to, user-friendly, platform for publishers to get their content to a global audience.
About
Epiphany Ai creates adaptable technologies to make digital publishing and advertising more efficient. Our team of ad-tech veterans and seasoned technologists are on a mission to provide value to our partners around the world. The company is based in Denver, Colorado and was recently recognized as one of the state's most innovative companies by receiving the coveted distinction of being one of 2017's Top 50 Colorado Companies to Watch.
EpiphanyAi
Brian Allen
720-639-4064